MARTIN ML STRIPES SHIRT Woman Blue Wht Red
INES-INTC003CO500<>P953BLUE-WHT-RED
Want more information about this item:
Details
WOMEN Coat- Model: MARTIN ML STRIPED SHIRT - Color: BLUE WHT RED

The Martin shirt is a must-have for every Parisian woman, and is Ines' favorite.
A classic version in light blue cotton, slightly fitted, with the characteristic blue, white and red braid on the hem.
The blue Martin shirt gives a new touch to a look in a short time.

COMPOSITION
100% cotton

Brand code: INTC003CO500
other items INES DE LA FRESSANGE







EMME MARELLA
€ 48.93
€ 69.90


MAX MARA S
€ 122.50
€ 175.00


MAX MARA S
€ 124.60
€ 178.00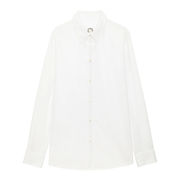 INES DE LA FRESSANGE
€ 175.00



MAX MARA WEEKEND
€ 153.30
€ 219.00